Creative Process
Behind each silk scarf by GAYANA there is a whole series of different stages that go into their creation- conception, research and manufacturing.
The very first and most exciting stages for me, as a designer, is the birth of the idea and the creation of a pattern. people are always interested in where I get the ideas for my designs. This is the most difficult and at the same time the simplest question. My ideas come from everywhere and at any time of the day or night, I just need to catch and remember them.
Sometimes the process of "nurturing" and developing an idea lasts for months, and sometimes only for several hours. Sometimes I see a scarf in its entirety all at once, other times only its central core, and then as the project progresses this core expands out with new elements and grows to a full-fledged design. Always the birth of a new pattern is a cocktail of the joy and pain of creation, research and the studying of the subject matter, discoveries, trials and doubts …
Most importantly, each new design is comprised of my emotions, inspiration,creativity and work that you can appreciate and relate to.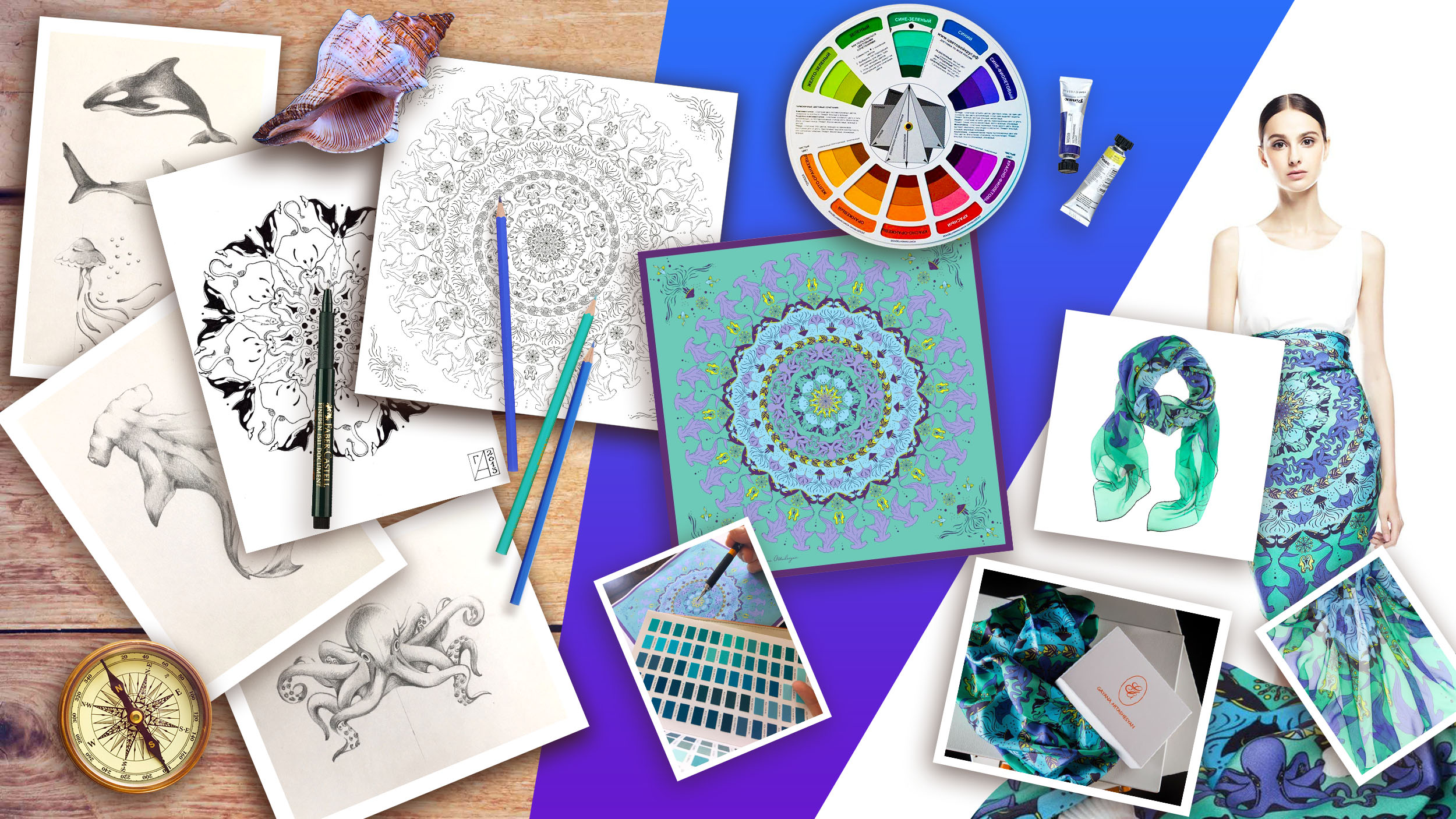 The process of choosing colors for a drawing is no less exciting than the design process itself. Sometimes choosing colors can be very difficult, especially if the design includes a large number of elements and color groups. Intuition and visual perception work together to achieve one goal – to create the most harmonious and vibrant color combination, the one that catches and holds the eye and makes you choose this beautiful silk scarf and not another.
When the pattern is ready, it is then digitized. At this stage the most important thing is to preserve the scarf's spirit and uniqueness.
Next the work begins preparing the file for the printing stage – the colors must be selected according to the universal classifier, samples are printed and finally any necessary corrections and making changes are made.
The printing and finishing processes are done at the best factories in Italy,exclusively working with silk printing for decades, continuously developing and perfecting their craft that they are known for around the world.
GAYANA scarves are always finished with a hand rolled hem. Rolling the edge of a scarf is a delicate and complex process done by the sensitive and skillful fingers of a highly trained and specialized seamstresses.
The end results of all this well-coordinated and multi-staged work done by the many individuals involved in the process are amazing scarves, beautiful, unique and containing the love, skill and a piece of the soul of everyone who contributed to their creation.
Introduction text here explaining the overall process and steps taken to create each new design and meaning behind the idea.